Executive Committee
Chair
Louisiana Special Education Center
Administrator of Nutrition Services
(920) 851–2799
bconradt2799@gmail.com
Bobbie Guyette
MPH, RD, LDN
Bobbie has been a member of the SNS DPG member for several years. She started being actively involved during graduate school by working on several DPG webinar presentations focused on informing dietetic students about the field of school nutrition. She served as Newsletter Editor for the DPG during 2014-2015.
Bobbie focused her graduate school work on school nutrition and has held multiple different positions in the field of school nutrition. She worked as a Nutrition and Wellness Specialist for Hopkins Public Schools in Hopkins, Minnesota where she worked on menu planning, new meal pattern standards, recipe development, Farm to School, school wellness, and school gardens. She then moved to state level work with Georgia Department of Education as an Area Consultant. In this position she provided technical assistance to several school districts and took part in administrative reviews throughout the state of Georgia. Currently she holds an administrative position with schools in the Special School District of Louisiana. She works specifically with the Louisiana Special Education Center in Alexandria, Louisiana and Louisiana School for the Deaf & Visually Impaired in Baton Rouge, LA.
Bobbie received her Bachelors of Science degree from the University of Wisconsin Green Bay in Human Biology - Exercise Science/Dietetics, a Master of Public Health degree, combined with an RD Internship, from the University Of Minnesota School Of Public Health.
When not working Bobbie spends her time gardening, biking, and of course cooking!
Chair-Elect
Marietta City Schools
Director of School Nutrition
Cindy Kanarek Culver
MS, RDN, LD
Cindy Kanarek Culver, MS, RDN, LD is the Director of School Nutrition for Marietta City Schools (GA). She has 15 years of experience in school nutrition. She is the current Chair-Elect for the School Nutrition Services Dietetic Practice Group, a member of the Academy Positions Committee as well as the Georgia Affiliate Liaison for the School Nutrition Dietetic Practice Group. The Marietta City Schools Nutrition Program has the opportunity to serve breakfast, lunch and after school snacks to nearly 9,000 students daily. In addition, they provide the Seamless Summer Option Program within the community and have been granted the Fresh Fruit & Vegetable Program at one of their elementary schools. Cindy received her BSFCS from the University of Georgia, completed her dietetic internship from the University of Northern Colorado and earned a Master of Health Sciences from the University of Alabama.
Past-Chair
USDA Food and Nutrition Services
Food Distribution Division
Chief of Program Support Branch
409 E. Raymond Ave. #8
Alexandria, VA 22301
(703) 305–2885
jskolmowski@gmail.com
Julie Skolmowski
MPH, RD, SNS
Julie Skolmowski, MPH, SNS, RD has been a member of SNS DPG since 2002 and currently serves as Chair-Elect. Julie served as Treasurer from 2007-2009, Membership Chair from 2009-2014 and Chair from 2015-2016.

During her term as Treasurer, Julie spearheaded enhancement of SNS DPG's sponsorship program to attract sponsors to more opportunities, enabling SNS DPG to expand services for members. As Membership Chair, Julie coordinated efforts to recruit and enhance services for student members of SNS DPG.

Julie is Chief of the Program Support Branch in USDA's Food and Nutrition Service, Food Distribution Division. Previously Julie worked for the School Nutrition Association.

Julie holds a BS in Human Nutrition and Food Service Management from the Ohio State University in Columbus, OH, a Master's in Public Health Nutrition from the University of North Carolina at Chapel Hill in Chapel Hill, NC, and a Certificate in Business Administration from Georgetown University in Washington, DC. Julie also holds the School Nutrition Specialist credential of the School Nutrition Association.

She is also a member of the Virginia Academy of Nutrition and Dietetics and the Food and Culinary Professionals DPG.

Secretary
Oregon Department of Education, Child Nutrition Programs
Child Nutrition Specialist
255 Capitol St. NE
Salem, OR 97310
(503) 947–5897
jessica.visinsky@state.or.edu
Jessica Visinsky
MS, RD, MBA
Jessica is currently a Child Nutrition Specialist with the Oregon Department of Education, Child Nutrition Programs department. She works with Oregon schools and other programs sponsoring the School Breakfast Program, National School Lunch Program, and other federal meal programs for children. Jessica is a member of the planning committee for the "Let's Do Breakfast! Oregon" campaign, working in partnership with the Oregon Dairy and Nutrition Council and Partners for Hunger Free Oregon to promote increased participation in school breakfast. Prior to her work with the State agency, Jessica worked as a program manager in one of Oregon's largest school districts, Portland Public Schools. This work allowed Jessica to manage 15+ schools, 35 school nutrition employees, and over 5 different child nutrition programs.
Jessica holds a BS degree in Hospitality Management as well as an MS degree in Nutrition from Colorado State University in Fort Collins, CO.
In her spare time, Jessica is trying to experience all the recreation that Oregon has to offer and enjoys hiking, kayaking and wine tasting the best.
Treasurer
Cornell University
The B.E.N. Center
Manager
112 Warren Hall
Ithaca, NY 14853-7801
(607) 255–7822
kih7@cornell.edu
Kathryn "Kate" Hoy
MFN, RD, CDN
Kate is the Manager of the Center for Behavioral Economics in Child Nutrition Programs at Cornell University. She is responsible for the development, implementation and evaluation of the Smarter Lunchrooms Movement, an initiative providing resources and training to over 25,000 schools across the USA. Her role with Cornell has taken her across the country to speak at conferences, to Capitol Hill where she regularly meets with government officials/policy makers, and to the table with many of the industry leaders in school wellness and childhood obesity. She was recently awarded the AAEA – Distinguished Outreach Award and Honorable Mention for the SNEB Nutrition Education Program Impact Award for her SLM efforts. In her spare time, Kate manages a private practice called "Food for Fuel", serves on the board for several DPGs within the Academy, writes columns and blogs in addition to participating in endurance athletics. Kate hopes to continue her work in community nutrition research and teach in the future.
Newsletter Editor
Laura Thomas Nutrition Communications, LLC
Consultant
SNSDPGnews@gmail.com
Laura Thomas
MED, RD, LD, FAND
Laura Thomas is a registered dietitian with a passion for sharing great tasting food and healthful lifestyle choices. She has created innovative nutrition education programs for children, teens and adults. Her work has been recognized with honors from the American and Idaho Academy of Nutrition and Dietetics (formerly Dietetic Associations) and the Dannon Institute. She was honored by the Society for Nutrition Education & Behavior early in her career. She authored Nutrition 101: A Taste of Food and Fitness (1st and 2nd editions) for the Institute of Child Nutrition, and developed the online version of that training resource. Her current work includes USDA projects for school nutrition professionals including Menu Planner Guide (in press) and A Guide to Professional Standards for School Nutrition Programs (2016).
She has perfected homemade marinara sauce with her garden fresh tomatoes and learned to make pies from her grandmother. She shares her greatest accomplishments in life with her husband of 31 years – their two amazing sons.
She's a graduate of the University of Idaho dietetics program and earned her Masters of Education degree with an emphasis on adult education from the University of Idaho – Go Vandals! She's a child nutrition consultant for Idaho's Child Nutrition programs and the Institute of Child Nutrition in addition to consulting work. In August 2014, she was named a Fellow of the Academy of Nutrition and Dietetics.
Membership Chair
*position open*
Electronic Communications
Rutgers Cooperative Extension
FCHS Educator and Associate Professor
1200 N. Delsea Drive
Clayton, NJ 08312
(856) 307–6450 ext. 2
hughes@rce.rutgers.edu
Luanne Hughes
MS, RD
Luanne is a Family & Community Health Sciences Educator and Associate Professor with Rutgers Cooperative Extension. She is a registered dietitian nutritionist (RDN) with a BS degree in Home Economics/Dietetics from Immaculata University and a MS degree in Nutrition/Communications from Boston University.
Luanne brings a diverse background in clinical research, marketing/public relations, pediatric nutrition, project management and nutrition education to her position with Rutgers Cooperative Extension.
As a county extension agent, Luanne is responsible for conducting research, and developing and teaching a variety of health promotion programs. Much of her programming combines community food systems, school wellness and nutrition topics.
Luanne is currently focusing her research and education in several key areas:
Child nutrition
Farm To School initiatives
Community supported agriculture/community food systems
Food security
School wellness environments
Luanne's major thrusts at this time include:
Grow Healthy…a garden-enhanced school wellness initiative for elementary schools
Yoga in Schools
A nutrition and agriculture education program called From Our Farms
The Seeds to Success youth farmstand project
StoryTime Foods, a nutrition and foods systems education curriculum for preschool families that uses children's literature to promote healthier eating practices
Get Moving, Get Healthy NJ, a comprehensive wellness initiative for adults and youth
Sponsorship Chair
*position open*
Education Committee Chair
Valley View School District
Director of Nutrition Services
355 Raider Way
Bolingbrook, IL 60440
(630) 771–2931
gibbonsmk@vvsd.org
Meghan Gibbons
RD, LDN, SNS
Meghan Gibbons, RD, LDN, SNS is the Director of Nutrition Services for Valley View School District #365U serving the Bolingbrook, IL and Romeoville, IL community. The Valley View Nutrition Services Department operates a nonprofit $9 million dollar a year business where 200 Nutrition Services professionals take pride in preparing breakfast and lunch on-site for 18,000 students daily in 19 schools. Meghan has worked in the field of Child Nutrition for 11 years, serves as the ILSNA Professional Development Chair, and sits on numerous industry and non-profit advisory boards. She currently serves as the SNS DPG Education Chair.
Awards & Scholarships Committee Chair
Western Illinois University
Associate Professor, Emeritus
1540 Highway 17
Aledo, IL 61231
(309) 582–5720
CE-longley@wiu.edu
Carol Longley
PhD, RD, LD
Carol Longley is an Associate Professor, Emeritus, at Western Illinois University. Carol was Director of Foodservice for Rock Island Schools from 1993 to 2008. Rock Island Schools received the School Nutrition Association "District of Excellence" award in 2004. Prior to this, she worked for Family Resources as an Eating Disorder Therapist. She was a management and clinical dietitian for Moline Public Hospital. Her research focus is in the area of school meal and wellness programs.
She is past president of the Illinois Dietetic Association and served in numerous elected and appointed positions in the state and local dietetic association. She served on the Advisory Board of Illinois Nutrition, Education and Training program and the National Food Service Management Institute. Carol has served on the SNS-DPG Executive Committee as Awards & Scholarships Committee Chair since 2013.
She received her BS in dietetics from Iowa State University, dietetic internship from the University of California Hospital, San Francisco, MSW from the University of Iowa, and PhD in foodservice and lodging management from Iowa State University.
SNS/Academy Delegate
Retired SN Director
329 Beldon Ave
Iowa City, IA 52246
(515) 294–4494
ddgoldsmith.icia@gmail.com
Diane Duncan-Goldsmith
MS, RD, LD
Diane Duncan-Goldsmith has been a member of the SNS DPG Executive Committee for the last 6 years serving as treasurer 2009-11, as chair 2012-13, and now as delegate. She worked as Director of Food Service for the Iowa City Community School District for twenty-five years. Since her retirement in June of 2012, she has been involved in consumer food safety research studies, first for a one-year project at Kansas State University and then on a two-year study at Iowa State University (ISU). While at ISU, she was also an ISU Extension associate focusing on food safety projects. For the last two years she has been a RDN Coach with the Kids Eat Right Team Nutrition grant in Iowa. She obtained her Masters in Food and Nutrition from the University of Iowa, Iowa City, IA and her Bachelor of Science degree from Augustana College, Rock Island, IL. She has been active at the state and local levels with both the School Nutrition Association Iowa (SNAI) serving as state president 2002-03, and the Iowa Academy of Nutrition and Dietetics (IAND) as a past member of the executive board. In June 2012, she received the SNAI Director of the Year Award. She represented SNAI on Iowa's Healthy Kids Act Nutrition Committee, Iowans Fit for Life, and Iowa Action for Healthy Kids. She was a member of the Midwest Dairy Association Iowa Dairy Nutrition Advisory Committee, receiving the Dairy Council Service Award in 2011. She has presented at state and local meetings for both the Iowa Academy of Nutrition and Dietetics and School Nutrition Association Iowa and had the opportunity to co-present at FNCE in 2014.
Nominating Committee Chair
North Carolina Department of Public Instruction
School Nutrition Specialist
124 Channelbend
Surf City, NC 28445
(919) 218–4090
susanmcthompson@
msn.com
Susan Thompson
MS, RDN, LDN
Susan Thompson, MS, RDN, LDN has been a member of SNS DPG for many years and currently serves as Chair of the Nominating Committee and is past-secretary. She is employed as a School Nutrition Specialist with the North Carolina Department of Public Instruction providing continuing education, technical assistance, and compliance monitoring for public, private, and charter schools participating in the National School Lunch and Breakfast Programs.
Susan holds a BS from Campbell University at Buies Creek, NC and a Master's Degree in Nutrition from East Carolina University in Greenville, NC. She also earned the Certificate of Training in Childhood and Adolescent Weight Management from Academy of Nutrition and Dietetics.
Susan is a member of the School Nutrition Association and the School Nutrition Association of North Carolina (SNA-NC). She has served on various SNA-NC committees and has presented at many national and state conferences and chapter meetings.
When not engaged in nutrition related activities, Susan enjoys gardening, cooking and baking, knitting, sewing, grandchildren and the beach.
Nominating Committee Member
Chartwells School Dining Services
Director of Nutrition and Wellness
800 4th St SW
Washington, DC 20024
(202) 450–6878
whitney.bateson@compass
-usa.com
Whitney Bateson
MPH, RD
Whitney Bateson is the Director of Nutrition and Wellness for Chartwells K12, supporting nearly 500 school districts nationwide with programs for food allergy management, menu planning, regulatory compliance, and sustainability. Whitney first joined Chartwells working as a Resident Dietitian in DC Public Schools, where she planned menus, managed the USDA foods program, delivered associate training, and assisted with the implementation of a variety of programs, including the Fresh Fruit and Vegetable Program, supper program, and local produce procurement.
Whitney earned her BS in Dietetics from the University of Delaware, completed her Dietetic Internship at Keene State College, and earned a Master of Public Health in Health Policy from the George Washington University in Washington, DC. She is a past member of the Nominating Committee at the DC Academy of Nutrition and Dietetics and current Chair of the Chartwells Diversity and Inclusion Action Council. In addition to an interest in food policy, Whitney is passionate about nutrition communication and graphic design, which she integrates into many of the programs and resources she develops.
Nominating Committee Member
Director of Quality Assurance & Training
Southwest Foodservice Excellence (SFE)
1201 Tinnin Ford Rd #56
Austin, TX 78741
(512) 557–6462
sarahfworden@gmail.com
Sarah F. Worden
RD, LD
Sarah Worden is the Director of Quality Assurance & Training for Southwest Foodservice Excellence (SFE), supporting over 100 school districts nationwide to ensure quality and consistency in all facets of the operation including, regulatory compliance, culinary standards, program marketing, and menu planning. She previously served as the Associate Director of Child Nutrition for Hays CISD in Texas, serving over 18,000 students at 22 campuses. She oversees the development of training programs for salaried management and hourly staff, including the implementation of the company's onboarding program for new employees. Sarah and her team work together to develop effective, grade specific nutrition education materials that tie into the school meals program. She is the Chair of SFE's corporate wellness committee and has launched successful wellness initiatives targeting the executive level to hourly staff.
Sarah sits on the board for the Austin Academy of Nutrition & Dietetics and is an active member in the Junior League of Austin through which she volunteers for various non-profits. Sarah completed the Coordinated Program in Dietetics through the University of Idaho. Sarah lives in Austin, Texas with her husband where she enjoys running, listening to live music and barbeque!
Policy and Advocacy Leader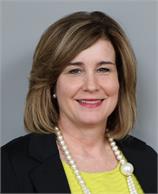 Carrollton City Schools
Director of Nutrition and Wellness
106 Trojan Drive
Carrollton, GA
(770) 832–9633
linette.dodson@carrolltoncity
schools.net
Linette Dodson
PhD, RD, LD, SNS
Linette Dodson is the current Director of School Nutrition for Carrollton City Schools in Carrollton, Georgia. Linette has been with Carrollton City Schools for 16 years. She is a registered dietitian and also completed her PhD at Iowa State University conducting research focused on registered dietitians in leadership roles in school nutrition. Linette is a member of the Georgia Dietetic Licensing Board. She also serves on the advisory board for the Department of Public Health Dietetic Internship program. She has served on the executive board of the Georgia School Nutrition Association from 2012-2015. Linette was the Georgia School Nutrition Association, Director of the Year for 2013. In 2015, all of the Carrollton City Schools were recognized as Alliance for a Healthier Generation schools and gold level Gold Radish recipients in 2013-2015. Carrollton City Schools was also awarded one of the first USDA Farm to School Planning grants in 2013, seven Georgia Shape Grants between 2013-2015 and multiple Alliance for Healthier Generation's grants.